By Peter Katz | Wednesday July 19 2019
Category: Press
---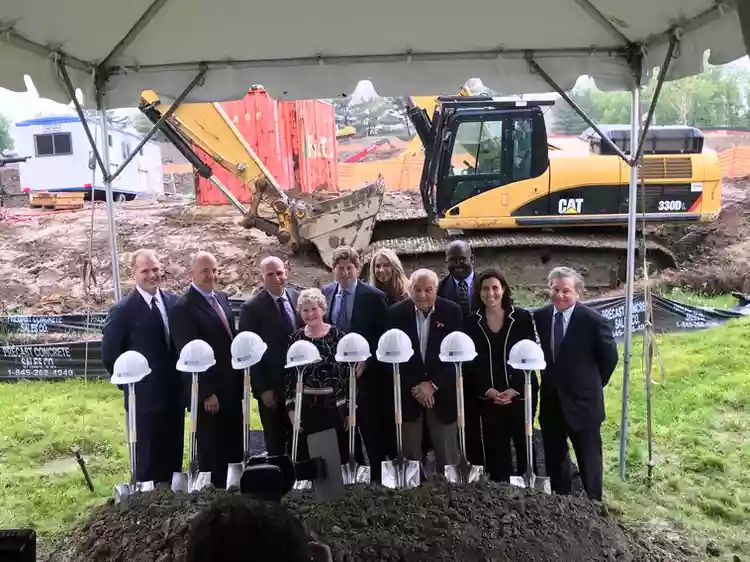 ---
"We had over 80 brokers show up in four hours," developer Alan Weissman told the Business Journal during an interview at the sales gallery for his St. Regis The Residences project in Rye.
He was referring to the first open house for the real estate brokerage community held on June 11 while construction workers and heavy equipment dominated activity at the 120 Old Post Road site.
"There's obviously a lot of interest in the property," Weissman said. "People seem to really like it and, for the affluent downsizer in this market, there are very few if any options aside from this project, so we've been well received and getting a great response."
The project is to include 95 one-bedroom to four-bedroom condominiums in five buildings situated on seven acres with underground parking. It will feature 25,000 square feet of amenities ranging from a fitness center, pool, movie screening room and pet spa to two St. Regis Hotel rooms for use by guests of residents.
"It will be like living in a very, very, fine St. Regis Hotel. It's branded by St. Regis and they have a certain standard of finishes and a type of amenities that are required," Weissman said. At least one person living in each unit at St. Regis The Residences will have to be 55 years old, and none can be under 18.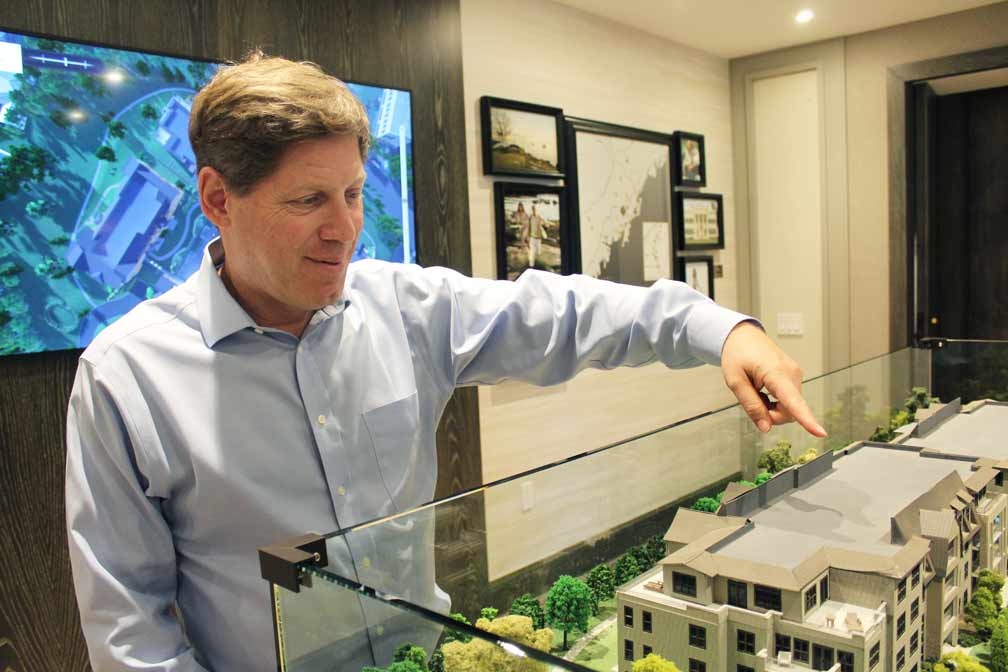 Alan Weissman looks over a model of the development. Photo by Peter Katz
The basic structures of three of the five buildings are complete and Weissman said that the other two will be going up in the next 60 days. "The plumbing, electrical, HVAC, all the mechanical systems are being installed now. Hopefully a year from now we'll be putting the last touches on and getting a certificate of occupancy at that point," Weissman said.
Weissman is the son of the late Alfred Weissman, who founded Alfred Weissman Real Estate in 1983. The company is based in Harrison and has a portfolio, including retail, office and industrial properties as well as student housing and hotels. It is using the St. Regis branding in this project under license from Marriott International.
"It's more than just an image. The reality on the ground is that St. Regis has a certain standard, a certain level which you have to meet," Weissman said.
When ground was broken for the project on May 17, 2018, the Business Journal reported that the cost was estimated at $100 million. RXR Realty has been providing financing for the project. "It's expensive to build out this quality. It's not your standard run-of-the-mill multifamily housing," Weissman said.
Among the units being marketed as of June 10 was a one-bedroom with 975 square feet priced at $1,030,000, a two-bedroom, two-and-a-half-bath unit with 1,602 square feet at $1,700,000 and a four-bedroom, three-and-a-half-bath condo with 2,775 square feet at $3,670,000.
"We're way ahead of where we thought we'd be," Weissman said. "We were pretty optimistic in our projections and we're even exceeding those numbers." He said they have not had to discount from the scheduled prices, but did not disclose sales figures. "One thing we didn't anticipate," he said, "was the amount of rock that was here, so going back about a year we had a very large blasting project." He said the neighbors were cooperative, "although it wasn't the most pleasant time in their lives. We moved as quickly as possible."
Weissman said they're marketing to affluent people who are looking to downsize. "This could be their primary residence, but for some people this is their second or third residence. They have homes in Florida. They have homes in New York City and this would be a third home replacing, for the most part, something larger in Scarsdale, Greenwich, Rye, Mamaroneck, mostly from this general area."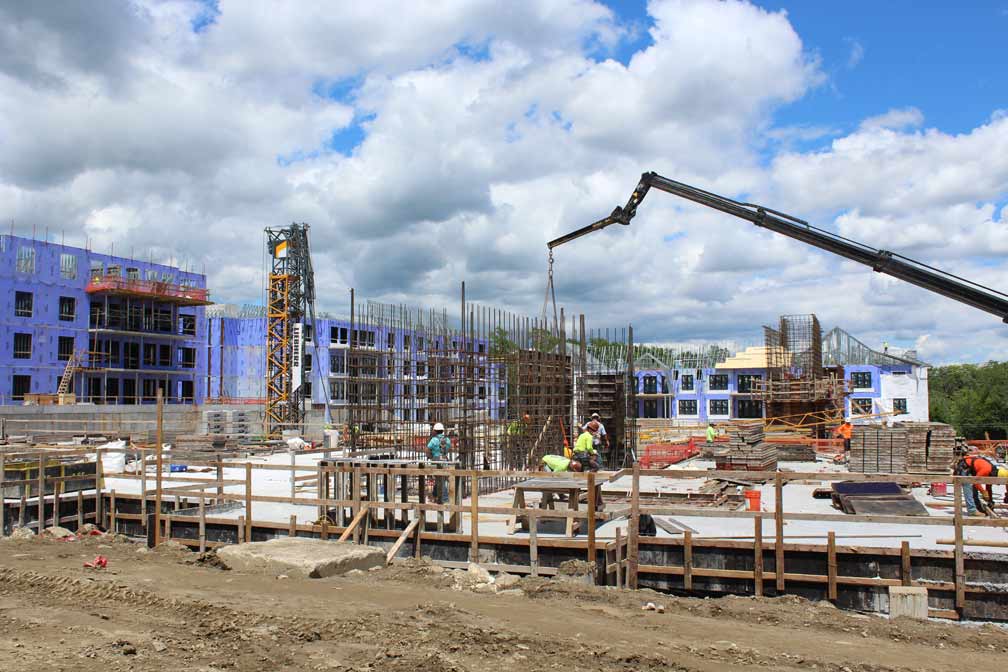 The site in Rye was bought by Weissman's father in 1997 for $1.4 million. Photo by Peter Katz
Weissman doesn't see future opportunities in lower Westchester for more of what he's building in Rye. "The reason why is that, unfortunately, there's not a lot of land for it and south of I-287 is kind of a prime spot people who are downsizing want to be. They don't want to be disconnected up-county and the parcels available in the towns that people want to live in really aren't there to allow this type of thing. This is really a unique development that way and it really isn't that easily replicated," he said. He said his company is looking for similar sites, but not in Westchester. "If they came up, obviously we'd look at it, but we're looking in other places, in Long Island, New Jersey, Connecticut, for other sites like this."
Weissman noted that the company has a track record in the hospitality business. "We buy conference center hotels and renovate them and position them and run them." He said that made it easier to work with Marriott International on the Rye project. "Our experience from the hotel side of the business is looking at the brand requirements and brand standards and following them to a 'T.' "
The site in Rye was purchased by Weissman's father in 1997 for $1.4 million and was the site of a 1960s office building. By 2012, the only tenant remaining was Alfred Weissman Real Estate. The company initially proposed building a hotel on the site, but withdrew that plan and in 2015 proposed a senior condominium concept, which was approved by the municipality in 2016.
---
Previous Page
---