By Anonymous | Tuesday November 4, 2020
Category: Uncategorized
---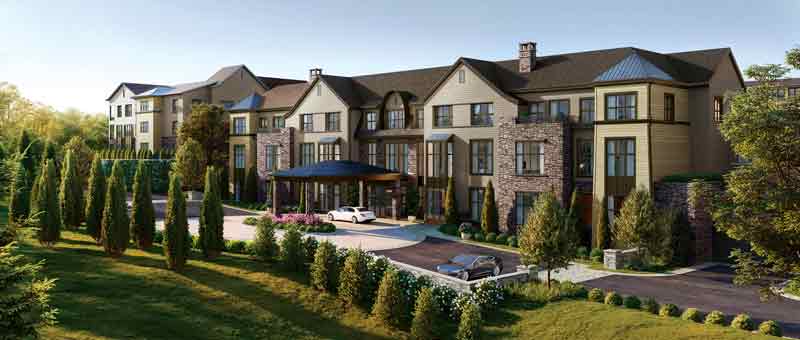 ---
Rendering of the grand drive court entrance with porte cochère at St. Regis Residences, Rye off Old Post Road
https://ryerecord.com/luxe-lifestyle-at-st-regis-attracting-discerning-buyers-from-near-and-far/
Luxe Lifestyle at St. Regis Attracting Discerning Buyers from Near and Far
The St. Regis Residences, Rye, a collection of well-appointed condominium residences, has announced that more than 50 percent of the 92 units have been sold as construction of this development nears completion.
Recent sales activity has been brisk, with thirteen homes sold in the last few months. In addition to Rye, buyers are coming from Long Island, Chappaqua, Harrison, Scarsdale, Larchmont, Mamaroneck, Greenwich and Manhattan. Some buyers are also coming from further afield — Massachusetts, Colorado, and California.
"We are very pleased with our sales activity over the past several months," said Alan Weissman, President of Alfred Weissman Real Estate, the developer of The St. Regis Residences, Rye. "At our current pace, we are exceeding our sales targets. Buyers are discovering the incredible luxury lifestyle that we are offering which is unmatched anywhere in our market." He added, "The growing trend of New York City residents leaving the city seeking homes in the northern suburbs has created a tremendous boom to the Westchester residential market."
Louis and Marcella Pellicano recently purchased a home at The St. Regis. The Garden City, Long Island couple heard about the complex from their daughter who lives in Rye. "We were downsizing because we no longer needed a big home. The square footage of our residence at The St. Regis really aligns with our lifestyle," offered Marcella. The Pellicanos were attracted by the fact that the community was 55 and over, plus they liked "the gracious amenities and the idea of being pampered by a full-time St. Regis staff."
Another plus for the Pellicanos is living in Rye. "It's very walkable and active. It has everything to offer." They have enjoyed attending social events for new buyers hosted by The St. Regis Residences and report that they've already met some very interesting and lovely people. "That makes it easy for us to move from a totally different location," said Marcella.
The St. Regis Residences, Rye will be the world's first St. Regis Residences property to operate without a hotel. Situated on seven beautifully landscaped acres, the complex offers one- to four-bedroom residences, priced from $1,065,000, in five inter-connected buildings. This unique development will feature gated entrances, manicured gardens, a large central courtyard, walking paths, a grand drive court entrance with porte cochère, and an underground, heated parking garage.
Residents will experience exceptional, bespoke services provided by a Marriott International-trained St. Regis staff. These services will include the signature St. Regis butler service, a 24-hour concierge, full-time property management, valet parking, package and mail delivery, and doorman and porter services.
Three model homes, designed by Rye-based interior designers Dale Blumberg Interiors and Elissa Grayer Interior Design, will be open before the end of the year. Occupancy of the first residences is expected in early 2021.
---
Previous Page
---